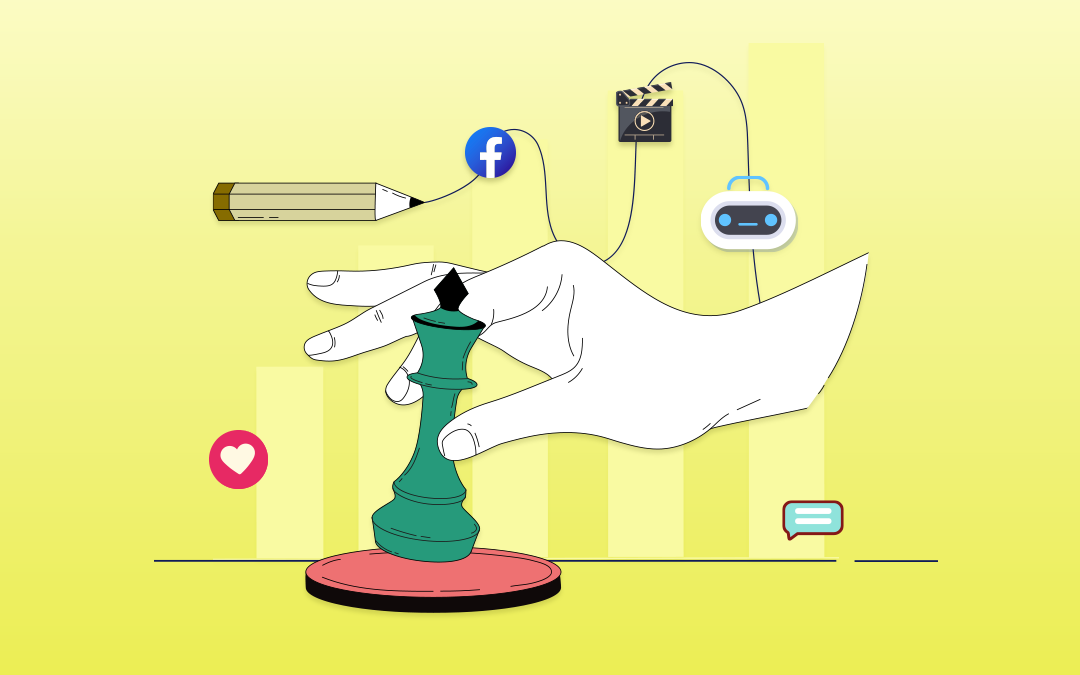 7 Small business trends that'll spark the industry in 2022
The year (2021) is coming to an end and now is the chance for you to learn new small business trends to implement in 2022. Let's get going!
Well, well, well, look who we have here - an entrepreneur looking for opportunities to improve his business according to the current trends. 📈
Any business owner who is constantly hungry for knowledge and willing to try out new ideas will never be defeated.
It's been almost 21 months since the pandemic and people got used to ordering online.
This momentum helped small businesses to rise to power. They still are growing even after people return back to a semi-normal life.
If you are one amongst them, keep reading - it just got interesting! 📖
Top 7 small business trends to check out and implement in your business in 2022
Get to know these small business trends that are catching up so hard to the changing needs of the customers.
"Change is the law of life and those who look only to the past or present are certain to miss the future." —John F. Kennedy.
1. Virtual meetings & events
Since the pandemic, all corporate offices have swapped their communication to virtual meetings. The skill development industry has grown exponentially since kids, adults, professionals can take lessons or learn new skills in the comfort of their homes.
Even brands like Apple and Chanel have launched their new products through virtual events.
Conducting virtual events is a brilliant method to connect with customers in a more personalized way.
How can small businesses conduct virtual events? - must be your next question.
Utilize social media live streams - start small with Instagram Live or ClubHouse. Once you gain subscribers, direct them to your YouTube live sessions.
2. Personalized Artificial Intelligence (AI)
Users nowadays want immediate and humanized solutions to their queries.
How simple is it to solve this issue in the days to come? Very easy actually.
Chatbots that respond like humans instantly will help you give a personal touch to your customers.
If you are a small business with a minimum customer base, this will probably not work for you. But with constant interaction, it's quite possible.
AI (Artificial Intelligence) helps in identifying accuracy in customer behavior through seeking patterns in the interactions.
For example: Mastercard 💳 has utilized Facebook chatbots 🤖 to engage with customers. It uses natural language processing to decode the needs of the customers and serve them accordingly.
How cool is that! 😎
Watch this amazing TED talk on personalization!
3. Outsourcing services through gig workers
How many of you think that gig workers are far too economical, systematic, and prompt with their submission dates?
I hope to have many!
Freelancing was introduced to the population at large in 2014 and since the pandemic, the number of freelancers has increased to 59.9 million people just in the United States. And the culture is spreading faster.
Your administrative costs will decrease exponentially when you hire gig workers for tasks that can be outsourced.
For example: Social media strategists 📱, website developers 👩‍💻 and more!
4. Video marketing
Get ready to internalize some HUGE numbers when it comes to video marketing!
It is said that 84% of the consumers are convinced to purchase a product or avail of service after watching a video.
And 54% of the consumers want more videos to explain product scenarios and convince them to buy.
When it comes to videos, the aspects you'll have to cover are - duration, content quality, graphics, publishing platforms, music to include, etc.
The quality of the video has to be better for you to reach more customers.
5. Sales using social media pages
Have you seen social media pages being utilized to generate leads and score sales?
This method has been highly used by personal brands, B2C, and in some instances when properly engaged - B2B businesses as well.
Tips to make sales in social media pages work;
Consistency in content.
Use proper hashtags - spelling, number of hashtags, and relatable hashtags only.
Understand the colors 🌈 that work best for your brand.
Be innovative yet understandable with the designs.
Keep being creative and more human when reaching out to customers.
6. Adapting to a cash-free economy
Who carries more than $100 bucks 💵 in our wallets? Apparently no one!
Thanks to services like PayPal, Apple Pay, and Google Pay people started making cash-free payments all over the globe.
Swedish retailers refuse to receive cash payments and there are only 20% of cash transactions happening in the nation.
People can track their expenses, audit their finances, and more when a cashless economy takes its complete reign in all countries.
The countries like China, the UK, Denmark, and Sweden are more or less transforming themselves into cashless transaction countries.
Amazing, isn't it? 🤩
Therefore, it is wise for small businesses to have digital payment solutions in their business premises to make things easier.
7. Implementing humanized UI & UX
The millennials and Gen Z folks not only expect the small businesses to give immediate & effective solutions, but they also want to make a statement.
A humanized experience is one of the major factors that keep young customers interested in you. It solely cares about solving their problems and making their user experience more enhanced.
While developing any product or service, the customers expect it to be a human-centric design (HCD) as this process has a number of advantages such as;
Reduced errors.
Smoother operations.
Ease in learning about the product or services.
Increase in ease of the user experience on the whole.
Check out: Design kit
Conclusion
Always be aware before making any changes in your small business. You'll have to study your target audience and market trends to make any major decisions regarding your business.
It's only fair to make changes to adaptable customers. Cheers!
---
Let's work together!
---