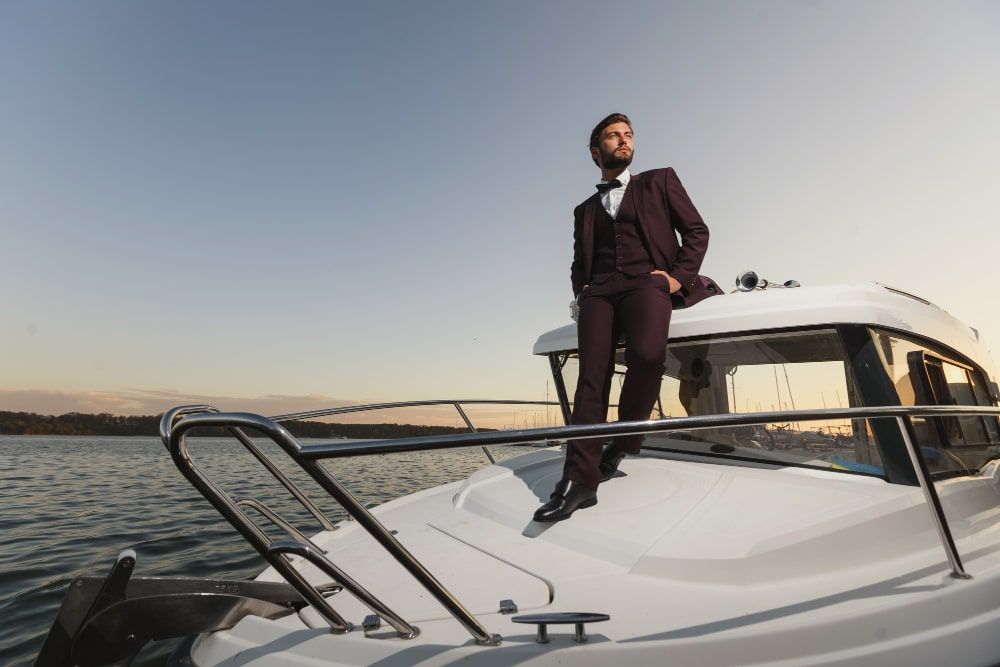 How to start a boat rental business - A 2023 Guide
Thinking about starting a boat rental business? Choosing the right place, purchasing a boat, permit, and license, and more involved in starting a boat rental business.
If you're passionate about boating, starting a boat rental business is like having fun along the way.
This means turning passion into professionals.
In other cases, if you are unfamiliar with the boat rental business, but hoping to start one, this guide has all your answers.
The rising interest in water-based activities and the post-pandemic effect have accelerated the growth of this industry.
It's no surprise that this industry is worth $5 billion in the United States.
Apart from that fact, let's move to the content.
Identifying the purpose and being there
People rent a boat for various causes - knowing of that will make you prepared to serve well.
There are several types which you can specialize in,
Serving houseboat rentals
Serving sailboats, deck boats, and yacht
Serving motor boats and fishing boats
Of course, there is a lot you may be tired of hearing it.
When you try to count the number of boats, there are several. Therefore, it's difficult to address each market and be there for renters.
While choosing the market type, pick which you're more passionate about and whom(which audience) you can serve well.
Though the above-mentioned types are seasonal, so you need to make the best out of those busy months.
Tips to choose the market type,
Research the boat rental market before getting in
Research your location - like you're near to lake, river, or seafront
And what is missing?
These factors can help you leap in the right direction.
If you are already in any of the boat rental types, or have a good knowledge about the niche before, it could load off your shoulder and makes you focus on the other worries.
I am not being pessimistic, worries have to be your case while doing business. That's how you find a solution to every problem.
Choosing the right place
The right place for your business set off the remaining thing for you.
Imagine choosing a place where your target audience is barely showing their interest.
You wouldn't like these.
Let's say you have invested everything in your boat and ended up serving the wrong place and people.
That's why you need some analysis or networking with the boat owners to help you from the chaos.
Allocate your budget
Starting a boat rental business would cost you more. But, maintaining it, "Is probably the same story".
But you can pave your way across it.
The cost involved in the boat:
The purchase of the boat
Storage
Boat registration
Insurance
Regular maintenance
The above things were said by an actual boat owner.
Her name is Linzy(I think) said that her total investment was $46,000(Including all the expenses)
The question is, "Does she make it or break it."
Through the boat, she had made a total of 147 bookings; on average if the renters book for 3 hrs, which cost $449, and if we multiply, the result is $66,003.
Her boat had made a total of 147 bookings; on average if the renters book for 3 hrs, which cost $449 per boat, and if we multiply it, the result comes to $66,003.
Yeah, she made it.
Here is the video, where Linzy shares her experience of owning a boat rental business.
Starting from one boat, now she owned around 9 boats across two different locations.
I am not sure whether everyone can make it or not. That depends on the proper planning and execution.
Here in the boat rental business, the investments are huge, that's why you need to be cautious while allocating your budget.
Invest only if you believe you can make it, and that belief does not have to come from within. It should be evident from the facts.
Have you watched the video - like there are many you can search for and get insight from the boat owners.
They can guide you well.
You need a boat
Whether it's leasing a boat or purchasing a new one, the boat shouldn't eat up your maintenance cost and have to comply with industry standards.
Before that, find out your customer preference and target market.
Moreover, the boat type (pontoon, sailboat, speedboat, etc.), capacity, features, and maintenance costs.
These factors should influence your purchasing decision.
Understanding the boat rental business
Identify the type of boats that are in demand, their pricing plans, and the peak boating seasons.
Doing these all are the same as doing first aid. You made sure that you were on the proper track before diving in.
After the work is done, you can use this data to develop a solid business plan that outlines your unique selling proposition, marketing strategies, and financial goals.
Permit and license
Operating a boat rental business entails legal obligations.
Things like permits, licenses, and insurance coverage may be required based on your location.
Consult with local authorities to ensure that you comply with all safety, boating, and environmental standards.
Market your boat rental business!
You have your boat, equipment, and a platform to offer your boat rental service.
Don't you feel something missing here?
Yes, you have seen the title "Marketing"
Getting there, marketing helps you create a presence of your service leveraging various platforms.
For your boat rental business, the top channels are social media, SEO, and paid ads.
On social media where you can show stunning visuals, a glimpse of your renters rejoicing in your boat, and their video testimonials.
It allows you to directly interact with your possible customers and eventually can build authority and trust.
1 - Search engine optimization
Search engine optimization is about optimizing your website by following the guidelines outlined by the search engines.
Google, which is the no 1 search engine lists out an SEO best practice for websites.
Don't have any idea about SEO? Read this Google SEO documentation. Or you can hire a professional to do SEO for your website.
If you manage to rank your website for specific keywords, you get traffic that eventually turns into your customers.
2 - Paid ads
If SEO gives you a big hand, paid ads give you the same result swiftly.
In SEO, where your expense relies only on professionals, but in paid ads, you need professionals combined with your cash spend.
To get started with paid ads, you can consider Google ads.
Before that, you need to create your account by searching "Google Ads", and you will be shown their website.
Need a hand in starting with Google Ads, here it is.
3 - Word of mouth
Word of mouth doesn't cost you cash like in paid ads.
Offering exceptional customer service put you in the top spot despite heavy competition.
Always prioritize things like your customer inquiries, and resolve any concerns they might have.
Creating positive customer experiences not only encourages them to do repeat business but also generates word-of-mouth referrals.
Scale your boat rental business revenue
1 - Dynamic pricing
Otherwise known as surge pricing, which is a popular pricing strategy used by Uber and Airbnb.
Let's get a clear picture of it.
It means pricing doesn't remain the same for every day, it may surge through the high demand, time of day, and season impact the cost.
On a typical day, the pricing may remain constant. However, during busy or holiday periods, you can take advantage of the increased demand.
2 - Cross-selling
Don't limit yourself to merely renting the boat.
Maybe your customer who rents your boat wants more than a boat. I'm referring to the necessary equipment, such as fishing rods and bait.
You can also charge them for this.
3 - Subscription-based revenue
Some people seek to rent a boat on a monthly basis. With just one customer, this might make your boat very busy.
This way, you can utilize the boat before the month even begins. So you can allocate the fund for other operations.
Comply with the current trends
Current trends revolve around adapting your website to people's preferences and growing technologies.
Your audiences are growing, and so does their expectations.
For that, a decent website would do better to create a worthwhile booking experience; moreover, an app combined would be the added advantage.
I can hear your question.
What about the cost involved in developing the website and app?
Let's introduce our Airbnb clone, which is a pre-build web and mobile app that empowers you to manage your boat rental business all through the admin panel.
Even though it's an Airbnb clone, with minor customization, we can make it look like a boat rental platform - all within your budget.
Conclusion
Starting a boat rental business is not everyone's cup of cake. It requires extensive research, planning, and investment.
I hope the given checklist can guide you in starting your boat rental business. Moreover, it has the potential to scale your business to the next level.
My words aren't mere promises; they underscore the importance of professionalism.
Good luck with your boat rental business.
Own your online boat rental platform
---