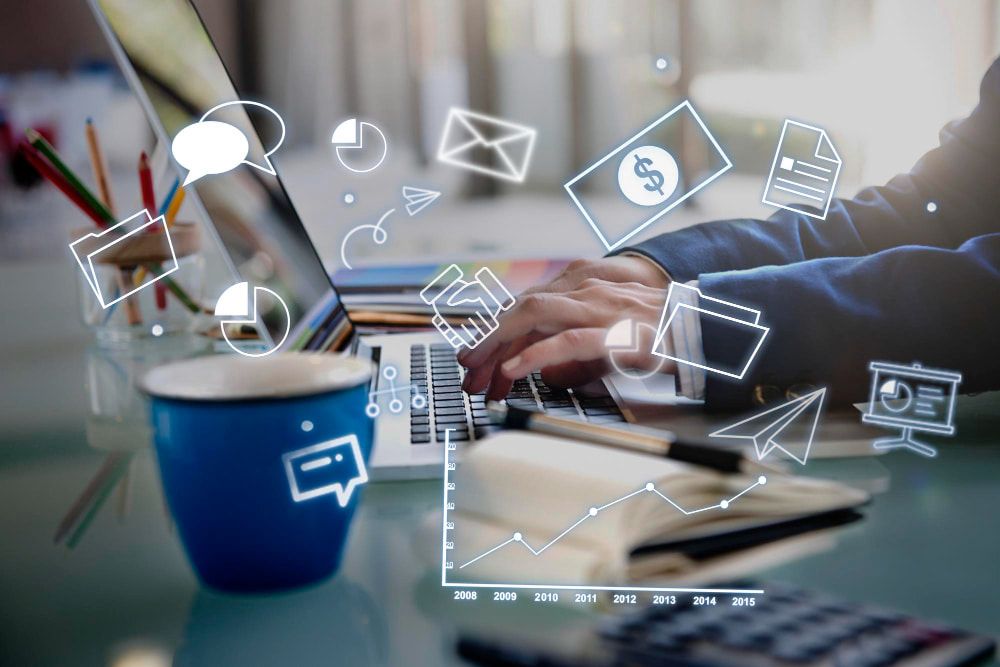 Why digital marketing is important for small-scale businesses?
Unlike traditional marketing, the digital way gives an edge to small businesses in the aspect of wider reach & cost-effectiveness. Let's see more.
Websites and digital marketing may not have been mainstream two decades ago.
But marketing is always here and there, no matter if we exist or not.
People need things, and they're put together by businesses, and that's need recognition to sold across.
That's why marketing is a huge industry. However, the terms and ways may change, but the term marketing will not lose its fame.
Every business, regardless of its size or the products and services it offers, requires a digital presence to effectively reach its target audience.
Let's see the quick benefits and get into "How as a small business, you can do digital marketing?"
Importance of digital marketing for small businesses?
In the ever-evolving marketing landscape, people are now relentlessly adapting to new practices.
Establishing a digital presence has become an indispensable necessity for today's business owners.
1. Reach a wider audience
Utilizing digital marketing means creating a brand presence across the world.
However, in the traditional approach, reaching a wider audience could cost more to receive the same compliment.
2. Cost-effective
Digital marketing is often more cost-effective than traditional forms of marketing, such as TV, radio, or print.
3. Track results
Digital marketing offers the advantage of precise measurement and real-time data analysis. Thus, allows you to gain accurate insights.
You can analyze data in real time to know what works and what does not.
4. Defining your target audience
Social media platforms like Facebook, Instagram, and X offer you insight into followers.
Therefore helps you understand who your possible customers are.
Additionally, if you have a website, using tools such as Google Analytics lets you gain access to even more precise information about your site visitors.
5. Personalization
Once you've gained a deep understanding of your target audience through social media or advertising platforms, you can approach them in two ways:
Create authentic, organic content tailored to their interests and needs.
Deliver personalized ads that resonate with their preferences and behaviors.
This strategic approach ensures that you engage with your audience effectively and in a way that best suits their preferences and expectations.
6. Multiple formats
There are various formats, including text, images, videos, infographics, podcasts, and more to cater to different types of audience preferences.
7. Offering multiple channels
You're not restricted here. You have various channels, including social media, search engines, email marketing, content marketing, affiliate marketing, and more.
By reading the list of benefits, you'll likely come to a clear conclusion: Indeed, digital marketing is worth your effort, time, and money
Yet, you may find difficulties in approaching digital marketing for your business.
Then, the following section will guide you.
How as a small business you can do digital marketing?
1. Business listing
Doing business listing can enhance your local search visibility. To get started, you won't require a special talent.
It is free but you're required to find a site that is related to your business niche.
If everything is done right, your business could rank on the search engine results.
Tips on that:
When you confirm the directory site, make sure it's not spam. To do that you can check their DA, PA, and spam using tools like Moz to identify them.
While talking about tips, I can't tell here everything, cause Hubspot does it for you along with the DA and traffic for each website.
2. Google My Business
In the previous section, we discussed listing your business, but you can do it on Google as well.
As of May 2023, the data has revealed that 93.12% of searches happened on Google.
Wouldn't you want to be there with your business?
It's free to list here. In the process, you'll need to add the details of your business, such as locations, images, and more.
Why do you need a Google business profile?
You need physical traffic or traffic through search engines.
You want to improve your local SEO.
You prefer to get identified when a user's search comes within your surrendering.
You want to influence the customer's purchasing decision out of genuine reviews.
If your answer is yes to all, then create your Google business profile.
3. Built website
If you're going to sell your service or product, your website acts as a digital store.
With the design and content appealing to your user, the website can do a lot more than you think.
From getting organic traffic & converting it into a customer, it plays a special role in the name of digital marketing.
Let me come to SEO - Search engine optimization.
What exactly is that?
If you have a website, Google needs to know which is the best website among the countless web pages to display the relevant result for the user.
For that, Google maintains a set of algorithms to judge it.
Adapting your website to Google guidelines is called SEO, search engine optimization.
Google is not the sole participant here, despite holding a top spot in the search share, we're taking them as an example.
Furthermore, with a website in hand, you can leverage channels like Ads and content marketing.
We'll see that, soon.
4. Social media marketing
Social media platforms serve as potent marketing tools, extending beyond mere communication channels.
However, each serves different purposes, and up to that, you need to choose what works for your business.
For example, we take Linkedin, where professionals and businesses collaborate and hire talent, and also known for being the best platform to do B2B marketing.
In the case of Instagram, which has an audience group that comes to savor entertainment content, which has different forms like memes, reels, images, and videos.
You need to find where your audience is and be there with your content.
Here, consistency and quality are two things where your primary focus should be.
5. Content marketing
It involves creating and sharing relevant, valuable content with your audience.
Create content that your audience would search for. It can be text, video, audio, or anything.
But that does need to address your audience's pain point, answer their questions, or entertain them.
In the form of doing all this, you're not only reaching them at the right time, but you're making them believe, "You're the best!"
Then how to do it?
You need to choose a format here. Go and analyze your competitors. Look for what they're doing in the name of content marketing, find that.
It doesn't mean you should follow the same, but figure out what works for your business.
It means writing a blog, posting videos on YouTube, sharing posts on social media, and doing podcasts with influencers.
Content is everything, you can choose any format that's relevant for your business.
6. SEO
You have a product or service to sell, along with a website showcasing your offerings. The object should be to get to the right audience at the right time.
That's how you can make money, isn't it?
Organic traffic
Want better visibility across the web
Need a cost-effective way
Looking for long-term results
Creating a better experience is your concern
If it needs to be achieved, you have no option than doing SEO for your website.
Whether hiring an in-house team or partnering with marketing agencies, both can do good.
As seen earlier, SEO is about optimizing websites for search engines. Since it requires some time before results become apparent, have some patience through the journey.
7. Paid ads
If the organic way isn't your type, or want quick results. You can embrace paid ads.
It is akin to traditional ads but here you need to pay for platforms like Google, Facebook, and Bing to run your ads.
Let's see the types.
Google search ads - This appears when the user searches for the targeted keywords.
Bing ads - Similar to Google ads
Facebook ads - Pay a flat rate to promote a post
Google display ads - Banner ad that contains text, images, or videos
YouTube ads - Appears on YouTube, a Google video-sharing site
8. Email marketing
Email marketing can be a highly effective and cost-efficient strategy for small businesses to interact with their audience, build relationships, and drive sales.
1. Define your goal
What do you want out of your email marketing campaign?
Are you aiming to increase sales, drive website traffic, boost brand awareness, or engage with existing customers?
2. Build a quality email list
Create and maintain a permission-based email list.
Collect email addresses through your website, social media, events, and in-store sign-ups.
3. Choosing a platform
Select a reputable email marketing platform or ESP.
Popular options for small businesses include Mailchimp, Constant Contact, and SendinBlue. These platforms offer user-friendly tools and templates.
Now, you have a basic idea to get started with email marketing. If you feel you want more, grab this definitive explanation.
Wrapping up
As we wrap up this journey, it's clear that digital marketing isn't just a strategy; it's a lifeline for small-scale businesses.
Whether you're running a cafe, a boutique store, or an ambitious startup, the digital realm opens doors you may not even known existed.
Digital marketing is about finding your people, telling your story, and making authentic connections digitally.
It's not just about algorithms and analytics; it's about people, engaging, inspiring, and adding value - may your journey be as rewarding as it is exciting.
---