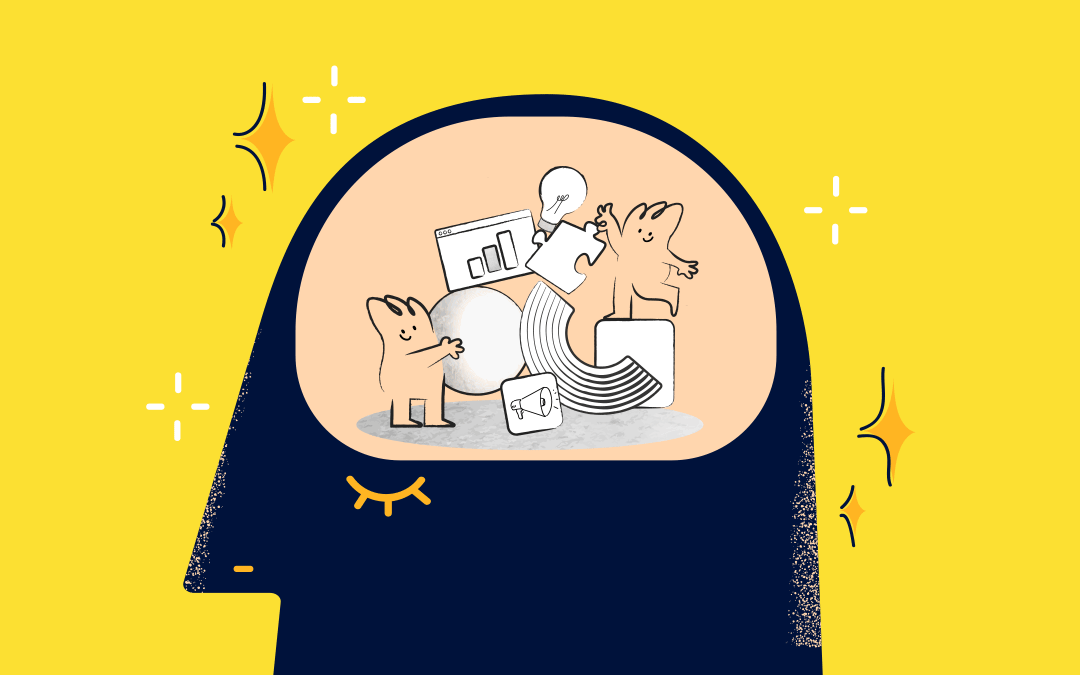 Implement these best marketing strategies of popular businesses in 2022!
The next year is blooming and it's wise to plan ahead! Learn about the prime marketing tricks of popular businesses in 2021 to implement in your 1st quarter of 2022!
Marketing is a vital part of any business activity. It helps you to reach the business to your target audience.
Running ads has been a vital part of marketing in businesses for years. But following the same footsteps without trying something new could affect your business reach in long run.
47% of the global users are using ad blockers. Now that's some frustrating information.
If your 2021 got boring and uneventful with business, here are some top-performing businesses with A-grade marketing strategies that you can draw inspiration from for a spectacular 2022!
Why is marketing essential for any business?
Marketing strategies however small are revolutionizing industrial performance. Let's dig into some details and get some reasons to put sense into the statement!
Marketing helps the target audience to get to engage with the product or services and also informs them about the company's whereabouts.
It boosts the company's reputation and works on brand image.
It helps the business collect data and analyze the future prospects of the business.
The regress act of marketing increases sales.
The data collected from surveys and marketing tools helps the top management to make informed decisions regarding the business.
5 Elements of effective marketing in the years to come!
As you can see in the image below, all 5 elements are extremely crucial for a marketing campaign to be effective and successful.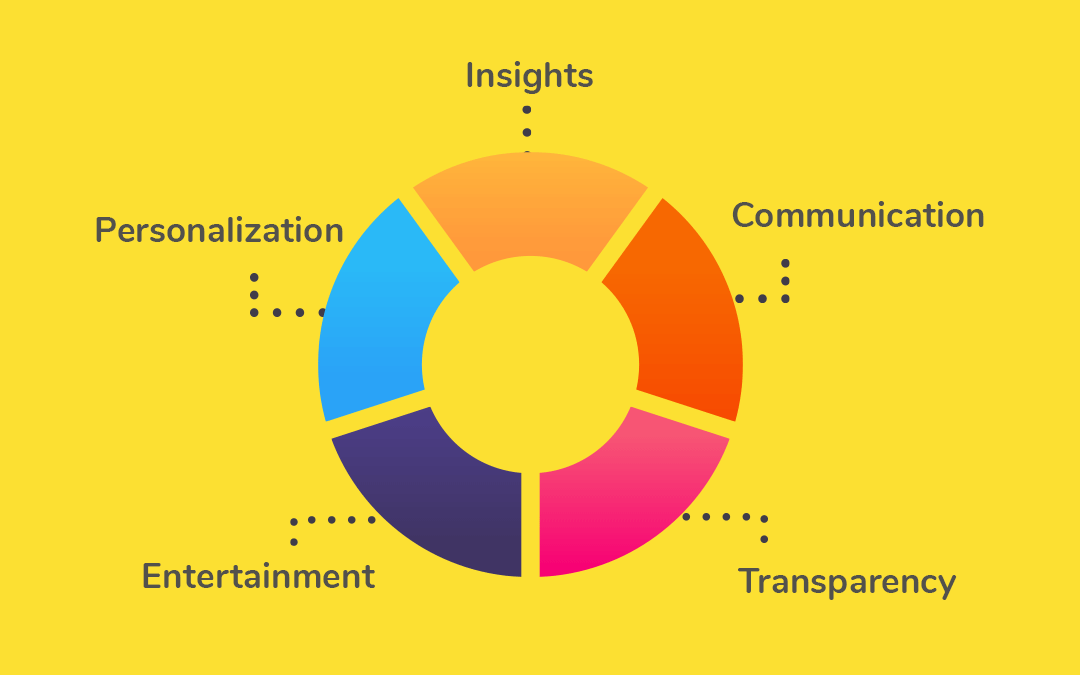 1. Communication
The communication between the managerial departments, the company and the target audience, the governmental organization, and the other stakeholders has to be very quick.
The opinion and ideas of department heads in a company have to be considered when a marketing campaign is released to the public. (Since they are a part of the society who come from different walks of life)
The whole point of running a marketing campaign is for it to be highly responsive to the target audience.
2. Personalization
We all know how important personalization is in the field of marketing. Each customer would like to have special attention and treatment from the organization.
Long gone are the days that had your name on the email that was sent to you. Now the technology has joined hands to improve the marketing status of the businesses. There are chatbots, live chatting, in-app messaging, etc.
3. Insights
High personalization can give you so much data. With data comes insights to hatch out futuristic plans for your business. Insights are collected to bridge the gap between the customer's needs and the organization's queries about the target audience.
Use tools like Alexa's Content Exploration Tool to make effective content specifically for your target audience.
4. Entertainment
People want entertainment with their brands, to engage, to feel human and reachable. Here is an example of entertainment on Twitter by Burger King re-tweeting Kanye West's tweet!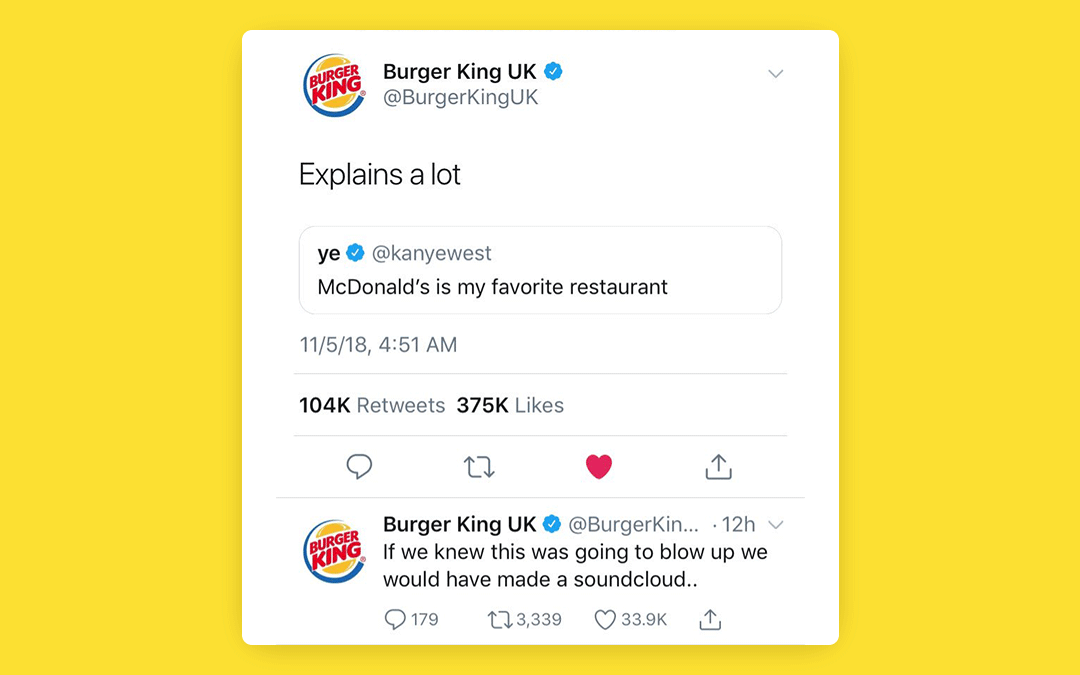 Twitter and Instagram are the most engaging social media as of now. Any business must learn to harness the power of social media and use it to its advantage.
5. Transparency
Now, this has to be handled very carefully as it could backfire. Admitting the error of judgment or a mistake in public (which means on social media). Some audiences see this as a strength to deal with the issues but some don't!
This is the example of Buffer blogging about their mistake that they don't want anyone else repeating!
8 Top-performing businesses with best marketing strategies in 2021 to learn for upcoming years!
Let's get inspired by these 8 exciting companies that perform brilliantly when it comes to marketing to get inspired and implement in your startups!
1. McDonald's
McDonald's and Burger King as we all know have taken over Twitter with their fun rival tweets. McDonald's in the US is all about digital delivery and drive-thru. They have revealed that their sales have exceeded $10 million and they are not planning on stopping now!
The President and CEO of McDonald's Corp, Mr. Kempczinski say that they are working towards implementing a mobile app for order and delivery.
2. CRED
Mr. Kunal Shah, the CEO of CRED, an online credit card bill payment service is not a stranger to all of us. His tweets and his involvement in digitizing the country have made him more like a personal brand for his company. (Dare I say! - he could be the Elon Musk of India)
3. TED
Blogging was the most popular form of content. Now, we can't sharply say that it's the same case now! TED talk is an invitation-only conference, which has made it more worthwhile. And it was able to attract more entrepreneurial celebrities like Elon Musk, Tim Ferris, etc.
Their plan is to give out world-class content to the audience based on niche breakdowns and a 15-minute video of the sessions! They have millions of views and counting. They expanded into TEDx, TED Fellows, TED-ed, etc.
4. Canva
The highlight of Canva is the freemium version of the tool. It's so user-friendly and people get used to it so much that eventually, they'd want to try out the paid premium version.
The key point to note is that they made Guy Kawasaki (the guy himself worked on Apple's Macintosh in 1984) as the Chief Evangelist of the creative company.
5. Jay Shetty
Jay Shetty is a widely popular personal development speaker. He has 20+ million followers for his coaching program and people just keep adding. And he is also known for his book, "Think like a monk".
For entrepreneurs who aspire to be a personal brand, your do-to list has to be to;
Find your niche.
Gather your customized resources on the said niche.
Start a website.
Keep posting innovative content on social media (prioritize quality over quantity)
Master the art of using one social media at a time, then slowly expand further.
These are a few consistent step-by-step tips followed by Jay Shetty and important he chose his niche very wisely!
6. GoPro
GoPro is an action camera manufacturer for adventure sports. They used this quote recently in their ads.
"They'll never see what you saw, but it's pretty damn close".
Now, that's some exciting copy for the product! They have grown into what they are mostly with the help of user-generated content. Generally, 79% of the buying decisions are based on the UGC content - and they leveraged it damn well.
7. Wistia
Wistia helps companies with their video hosting and video-based marketing tools. Then again, it is a SaaS-based company with so much learning material in its learning center. The materials are not long essay-like blogs, and whitepapers but video material which is quite helpful.
8. Hubspot
Hubspot is like a savior for content marketers (people like me) who would always need advanced strategies for their content calendar. Apparently, they have learning material for everything and all you have to do is subscribe to their newsletter.
You get a bunch of links to videos, blogs, and other materials that'll help you enhance your marketing techniques for FREE.
Once you check out their product, you'll never let go. Get mind blowing results!
These are some of the businesses that you can extract marketing motivation from which will help you formulate and succeed in your business.
---