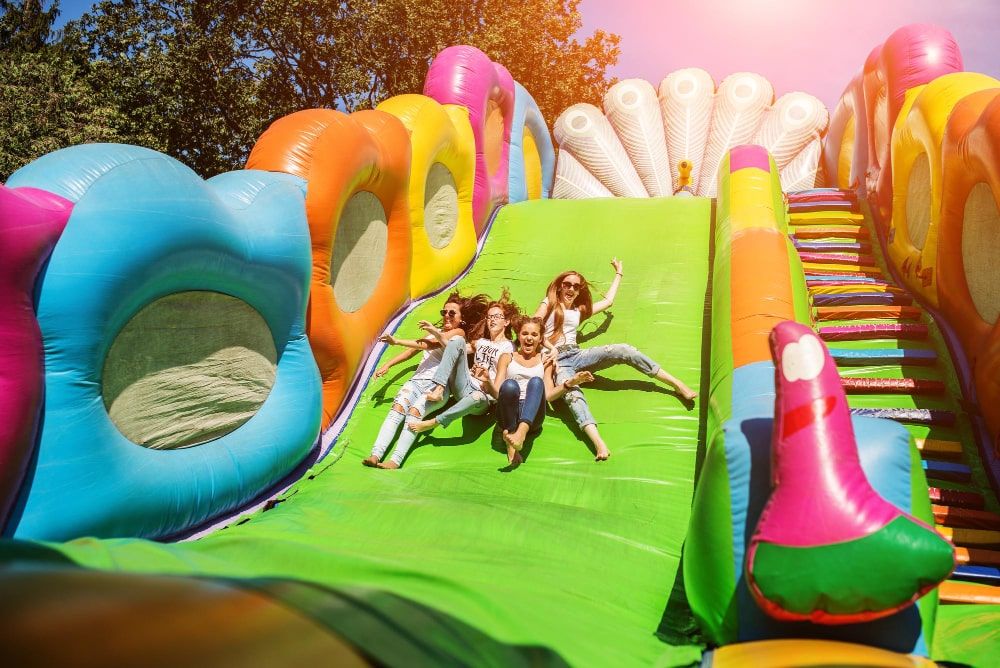 How to start a bounce house rental business in 2023?
Start your bounce house rental business with these 5 steps. It is not an ordinary guide but comes from analyzing several local bounce house rental businesses.
Whether you're driven by a passion for entrepreneurship - or you've already taken the first step by starting a bounce house rental business, you've landed in the perfect spot.
No matter where you are on your journey, we're here to guide you through this blog.
Without any fluff, with more stuff, let's see how you can start your bounce house rental business.
Steps to start a bounce house rental business
Starting off with the equipment
You can't start off a bounce house rental business without equipment.
Equipment is all you need and it's your primary asset. That's why we make it first.
1. Bounce house
While purchasing, you may have questions such as, "Bounce house or water slides?"
Bounce house comes in different sizes and themes. Choosing between one should be of your renter's preference and based on the demand ratio.
And don't forget the stakes and anchors that set the bounce house to the ground.
2. Blower
After you purchase the bounce house, without a blower, there's no bounce house at all. To inflate the bounce house, the blower is an essential component of the setup
3. Trailer and truck
Obviously, the bounce house looks big to carry and drop even without air.
From the garage to your truck, you need a trailer to do some heavy lifting for you. And a truck to deliver it to your renters.
Other things you need are,
Cleaning equipment to make it look good and safety mats, crash mats, and sandbags to provide a safe environment for users.
If you have done all this, it's great!
Doing market research
Before setting a plan, before purchasing equipment, before doing all the other things, you need a clear picture of "what you are going to do?"
That's why you need to bother about doing market research.
It not only gives you an idea but also helps you tailor your strategy and efforts.
And there are many checklists you need before starting a business.
1. Target audience
We can say that kids are the audience. But you can't market your bounce house business to them, but rather to their parents.
Yes! They do search for your bounce house - not the kids.
Know what they want; some parents may prefer safety for their kids, some service, some the pricing you charge.
People are different, everyone expects different things. That's why you need to identify who are your target audience.
2. Know your competitors
Analyzing your competitors can help you know their strengths, weaknesses, and opportunities.
What do you get out of this process?
You get inspired by their strength.
Strengthen the part where they are weak.
Find your way through opportunities.
Check their pricing strategy to tailor yours.
By doing so could make you a unique choice and more appealing to the customers.
Understanding your competitors not only makes you better but eventually lets you evaluate whether this market is right for you or not.
3. Look for how big is the market
You have identified your target audience and competitors - now you have an idea. But it's not enough.
Look for how big the market is.
You'll get two things, such as understanding your customer base and the demand level for your service in the target area.
You may finalize your target region and plan to leap in. Hold your idea, cause there are still some steps left to be done here.
1. Keyword research
Use keyword research tools like Google Keyword Planner or Semrush to identify search volumes for bounce house-related terms in your target location.
Search volume means the number of users searching for the particular term "Bounce house rental."
2. Analyze their online presence
Your competitor could have their online presence through different channels, such as social media profiles, customer reviews, and websites.
If they have a website, use tools like SimilarWeb to estimate the online traffic and engagement of your competitors' websites.
3. Google Trends
Use Google Trends to identify search trends for bounce house rentals. Compare the search interest over time and by region to spot any patterns.
This tool can also help you discover related queries and topics that potential customers are interested in.
Tailoring your pricing strategy
By putting yourself in tailoring your pricing strategy, you'll get a competitive edge while heading toward profitability.
But the process may not simple as it looks.
The processes are,
1. Cost Analysis
Begin by calculating all your costs, including the purchase or rental of bounce houses, maintenance, insurance, transportation, storage, marketing, permits, and any other overhead expenses.
2. Determine Profit Margin
Decide on the profit margin you want to achieve. Sometimes things aren't in your hand.
Typically, a profit margin of 20-40% is a good deal for a bounce house rental business, but it can vary depending on your specific circumstances.
3. Pricing Structures
Consider various pricing structures, such as hourly rates, daily rates, or package deals.
Each structure may cater to different customer needs and event types.
4. Competitive Pricing
Research your competitors' pricing to understand the market standards.
Your pricing should be competitive but also reflect the quality of your service and equipment.
Marketing - A way to sell your service.
For a bounce house rental business, it's wise to explore a dual approach, such as traditional and digital marketing methods.
This balanced approach proves highly effective, especially when you're starting small or focusing on a local audience.
Let's begin with the digital way.
1. Google My Business
When you simply type "Bounce house" into your search engine, you'll find a list of bounce house rental businesses right at your fingertips, even if you didn't specify "Bounce house rental."
Not sure, if it will work the same for you.
So, the key takeaway here is clear: Go ahead and create your Google My Business profile today.
It's your ticket to being easily discoverable by potential customers in your area.
And that doesn't mean "Google My Business" is the only way to create a presence.
Here are the other digital marketing strategies for small businesses.
2. Customer testimonial
Using your customer testimonial to magnet new audiences could be the best approach.
Clients often grapple with doubts when selecting a service provider.
Like, does your service be what they have imagined? Is the choice they made would be a regret? Is your price worth it?
They had all the different questions.
Some would leave without actually opting for your service. Isn't that a huge miss?
That's precisely why, once you've delivered your service, you need to ask your clients to rate your business.
If you had sum up their experience, there's no better time to request them for reviews.
3. Own a website
You can ask, "How website can impact my marketing efforts?" Yes, it does.
To answer your question, having access to a website lets you access various tools, including Google Search Console to index your page and resolve any issue, Google Analytics to analyze the user's traffic, and Google Ads to leverage paid campaigns.
And the array of digital tools at your disposal is vast, and the possibilities are almost endless.
But worry not, we won't overwhelm you with a lengthy list!
4. Referral Program
Implement a referral program that rewards existing customers for referring new clients to your bounce house rental business.
5. Seasonal promotion
Plan and promote seasonal offers and discounts to capitalize on peak demand during holidays, school breaks, and special occasions.
That's it!
To put an end to this section - there are a lot of marketing strategies out there, yet this blog isn't about "Marketing strategy for bounce house rental business"
But to give a short description: Focus on a strategy that doesn't burn your money right away, since you're in the initial run.
You can embrace the organic method and after a few clicks and responses from your customers, you can open your gate to the new possibilities of paid campaigns.
Owning a bounce house rental platform
Owning a bounce house rental website can complement your efforts. As we saw earlier, it gives access to various marketing tools that are completely free to use.
But before that, let me tell you the other advantages.
1. 24/7 reach
You don't have to be available around the clock. But a platform can act as a digital storefront which allows your bounce house rental business to be visible 24/7.
2. Convenience for customers
Whether it's late at night or during weekends, customers can browse and book bounce houses at their convenience.
3. Efficient Booking Process
Making the booking process effortless. So that your customer can easily check availability, view pricing, select their preferred rental, and make payments—all in one place.
4. Secure payment processing
Having secure payment processing through your platform provides peace of mind to the customers.
5. Customer Data and Insights
Data give you a better idea. Collect and analyze customer data to gain insights into their behavior and preferences.
Eventually, this lets you tailor your marketing efforts and improve their experiences.
6. Gives you a competitive edge
Wouldn't it be a different story if you have an online platform and your competitors not having one?
To sum up, a website is better and an app combined is much better. I am not joking cause having a website and mobile app isn't expensive anymore.
A readymade solution like an Airbnb clone, which comes with in-built features and functionalities can be customized to a bounce house rental platform with minor customization.
That too within a quick timeline and your budget.
Enquire the price and don't be amazed.
We have almost come to say goodbye, After you go through the checklist I mentioned, you now have a better idea of starting a bounce house rental business.
If you feel the idea shared in this blog isn't enough, it might be time to roll up your sleeves and immerse yourself in the world of the bounce house rentals business.
That's the best way to truly grasp the nuances of the business.
---
Launch your bounce house rental platform!
---