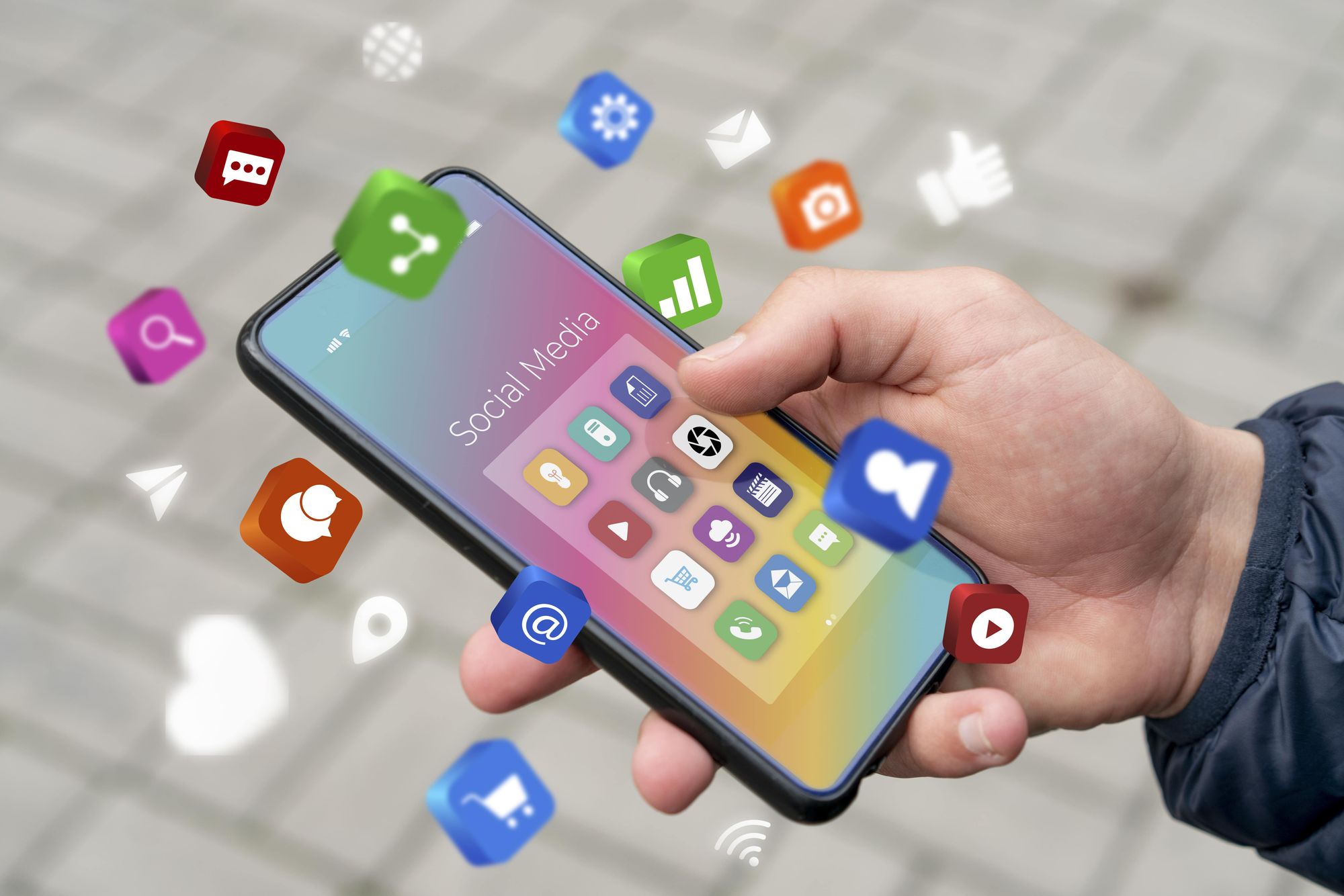 Importance of mobile applications in our daily lives
Explore how mobile apps revolutionize daily life, enhancing communication, productivity, and convenience in our modern world.
About 90.93% of the human population uses mobile phones, and over 85.74% of them are smartphone users. These figures show that much of the world's population prefers smartphones over regular mobile phones, and the reason for this is rather simple: the convenience of apps.
Everything has been made a hundred times easier with the help of smartphone apps, from routine chores like grocery shopping to the payment of annual taxes. And, with everything getting digitalized all over the world right now, people are obligated to be well-informed about the apps that can help them stay up with the rising technological and digital advancements.
As it stands now, we are all largely reliant on smartphone apps to guide us through our daily activities and accomplish what we need. In the following article, let's look into the role smartphone apps play in our daily lives.
The Role of Apps in Our Daily Lives
Mobile applications play an integral part in our day-to-day lives a lot more than one might realize as it is a recurring factor that influences almost all our daily activities. From early morning reminders and late night journals, people prefer to keep everything on their mobile phones to be accessed at any moment.
Smartphone applications help them keep in check with their lifestyle. To an extent, if you want to know about a person's lifestyle, all you need to do is look into the different applications they use daily, as many of us can be rendered helpless without many of these mobile apps.
In the following segment, we'll look into the influence that mobile applications have on various facets of our lives and briefly go over a few popular apps that can enhance your day-to-day activities.
Apps For Communication
The way humans communicate has changed significantly over the past twenty or even ten years and for the better. This is true of the way we interact with one another, for whatever purpose. Let's have a look at how apps affect communication in daily life.
Communication with loved ones
A few years ago, the only way we could get in touch with our loved ones who lived far away from us was through letters and the occasional telephone calls.
Soon after, mobile phones were widespread, and we could communicate with our family and friends via calls and, on occasion, text messaging from anywhere at any time. Nonetheless, they were not as effective as the different modes of communication accessible with smartphone apps today.
Apart from the standard call and chat functionality, the smartphone apps we utilize today enable us to use features such as conference calls and video chats.
WhatsApp, Instagram, Messenger, Skype, WeChat, KaKaoTalk, and many other apps are commonly used for this sort of communication.
Communication in workspace
People use a variety of applications to communicate in a workspace for official and other purposes. These apps are designed to keep the tone of communication formal while also making it faster. This makes communication much more effective than when people relied on means such as letters to pass on official information.
Slack, Microsoft Teams, and Gmail are some of the most commonly used applications for communication in a workspace.
Communication with a wider audience
Apart from interacting with friends and family and communicating in the workplace, there are instances when people wish to convey their thoughts and opinions to a larger audience who are not necessarily people related to them in any way.
Facebook and X, formerly known as Twitter, are two well-known social media platforms that let users express their ideas to a wider audience and learn about the viewpoints of many people from different walks of life.
Apps To Manage Finances
Several financial services at present are accessible through smartphone applications, and with the assistance of these apps, we are able to examine our account's debits and credits, transfer money without regard for time or distance, view the current account balance, and so on.
Many smartphone apps have also been developed by individual banking services which enable us to keep digital passbooks, carry out online transactions, and pay the majority of our bills—including phone, electric, and water bills—online. This eliminates the need for us to stand in a queue and allows us to do so from the comfort of our homes.
PayPal, Gpay, Venmo, and CashApp are some well-known UPI applications that can be used to efficiently handle your financial transactions.
Apps For Entertainment
The next most popular use for smartphones, after communicating and money management, is entertainment, and there are a tonne of apps available to keep us happily engaged. Let's take a look at some of them.
Games
Many young people have always found great entertainment in video games, and with the advent of smartphone games in recent years, many have turned to these games to keep them occupied during times such as travelling or waiting around. This is because smartphone games are accessible from anywhere.
Some of the most well-liked smartphone games in recent years that might help you pass the time during dreary hours are Angry Birds, Candy Crush, Among Us, Minecraft, and Fortnite.
Social media platforms
Apart from being used for communication, social media applications provide many people, particularly adolescents, with limitless hours of amusement as scrolling through social media updates is a popular pastime in the present era.
Instagram, TikTok, and YouTube are some social media applications that keep people well entertained.
Music and Books
In the past, people had to tune in to the radio, turn on a music channel on television, or download songs if they wanted to listen to music, but now we have music streaming service apps like Spotify, YouTube Music, iTunes, Amazon Music, and many others that allow us to stream music from anywhere at any time.
Similarly, apps like Kindle and Audible have made it possible for readers to carry an unlimited number of books with them wherever they go using smartphones.
Furthermore, apps like Goodreads and Fable have made reading more entertaining for readers by enabling them to set reading goals, keep track of their reading schedules and connect with other readers who share similar interests.
Video streaming services
Video streaming apps such as Netflix and Amazon Prime Video are also a major source of amusement for people, as these apps have enabled them to enjoy their favourite shows from anywhere using their smartphones.
Apps For Productivity
As there are applications to keep us entertained, there are also many apps to keep us from getting too carried away. These apps can help us learn new skills while also reminding us of our responsibilities and assisting us in remaining on top of our schedule. Let's have a look;
Learning apps
Many apps are available to assist us in learning a new language or a variety of skills, such as creating art or writing. We can access these lessons from anywhere with ease because of their easy accessibility on smartphones and tablets. Some of them are paid for, and some are free, but all of them are incredibly useful.
Popular learning applications include Skillshare, Coursera, Udemy, and Duolingo. We can take classes on practically anything using these applications, whether it's relaxing interests or professional skills.
Calendars and To-do lists
To better manage our time, activities, and upcoming schedules, we may construct visually appealing to-do lists with the aid of several apps that incorporate calendars, texts, photos, videos, finance trackers, and other data.
Well-known apps like Google Calendar, Notion, and Evernote can help you organise your day more effectively.
Distraction blockers
As mentioned before, when it comes to entertainment, applications and the internet may captivate us to such an extent that some of us may completely lose ourselves in them, forgetting our other duties. This is where distraction blockers come into play.
Apps that block distractions, like Freedom and Serene, are cross-platform and can help you focus by preventing distractions from websites and applications on all of your devices.
Habit trackers
Since users utilize applications like Streaks and HabitNow to help them fall into certain habits that they aim to make their routine, they are also recognised as effective tools for habit tracking.
These apps motivate their users to adopt the recommended behaviours by providing them with exciting features like milestone rewards and daily reminders.
Apps for Online Purchases
These days, practically anything can be purchased with the aid of apps; in fact, a lot of us have started to prefer shopping online to brick-and-mortar stores.
With only a few finger movements, apps enable us to make purchases from anywhere on the planet and provide an array of payment options, thereby enhancing our degree of convenience. Let's examine the variety of assets that can be bought with the aid of apps:
E-commerce
The majority of us are familiar with apps like Amazon, eBay, and Etsy. These applications allow us to buy and sell goods from the comfort of our homes.
We can also get anything we need through the app—from school supplies to household appliances—and have it delivered to the address of our choice.
Food Delivery
Another type of app that is of great use to people worldwide who make purchases online is the food delivery app. These apps let users place orders from their preferred restaurants and make sure the cuisine lives up to the expectations of the customers.
Customers order food with such apps at any time and from any location, and they can track their orders from the moment they are accepted until they arrive at their door. Not only do these apps deliver food, but they also deliver groceries and dairy products.
Some well-known meal delivery applications worldwide include GrubHub, Uber Eats, DoorDash, and FoodPanda.
Ticket Booking
Some of the well-known applications that let users book tickets for a range of events, including athletic events, musical concerts, movie tickets, etc. are TicketMaster and BookMyShow.
Many people also utilise apps like RedBus and MakeMyTrip to book travel tickets.
Ride-hailing
Users can arrange for rides using apps like Uber, Lyft, and Ola, and the driver will quickly arrive at the designated place and drop them off at their destination.
By not having to walk outside and hunt for a cab or another form of transportation, many of us may save a significant amount of time in this way with the help of ride-hailing apps.
Conclusion
If you go back to the period of the COVID-19 pandemic, you will notice that the use of applications extends beyond the previously described attributes.
During those long days of being confined to our own houses, even the formal education and livelihoods of many kids and adults depended on apps like Zoom, Google Meet, and Google Classroom.
By considering all of these factors, we can see just how deeply apps have become a part of our daily lives.
---