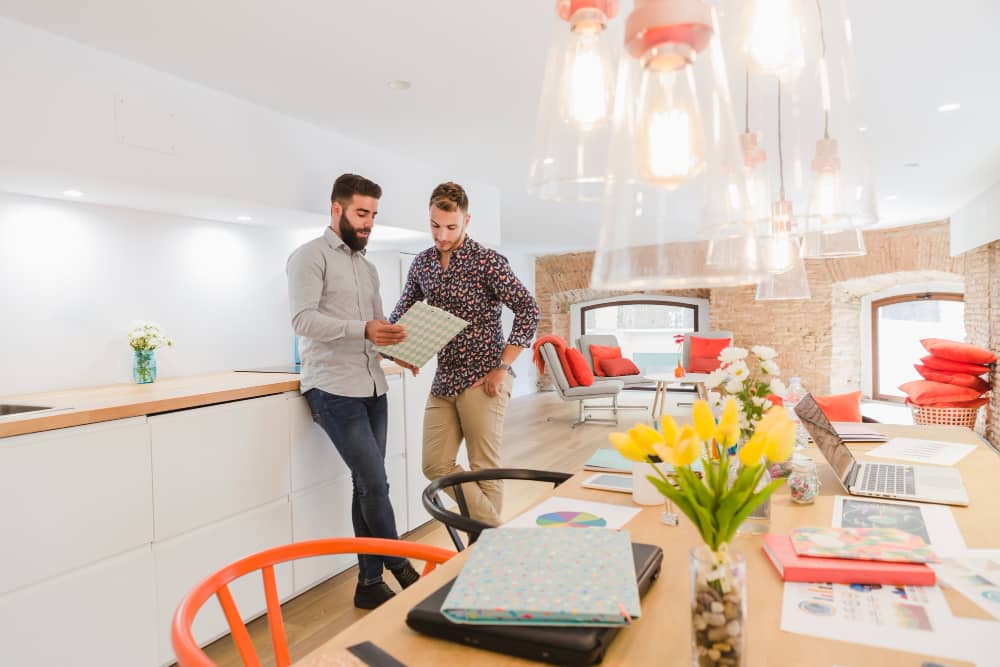 Top 5 Peerspace Alternative & similar sites [2023]
If you're seeking an alternative to Peerspace, we've compiled a list of seven platforms similar to Peerspace, each with its target audience and event types.
Peerspace has undoubtedly been a popular choice for unique event spaces, but it's not the only player in the game.
Whether you're planning a wedding, corporate gathering, or a creative workshop, there are other Peerspace alternatives out there, and we're here to guide you through the top seven.
Let's start!
Top Peerspace alternatives
1. Giggster.com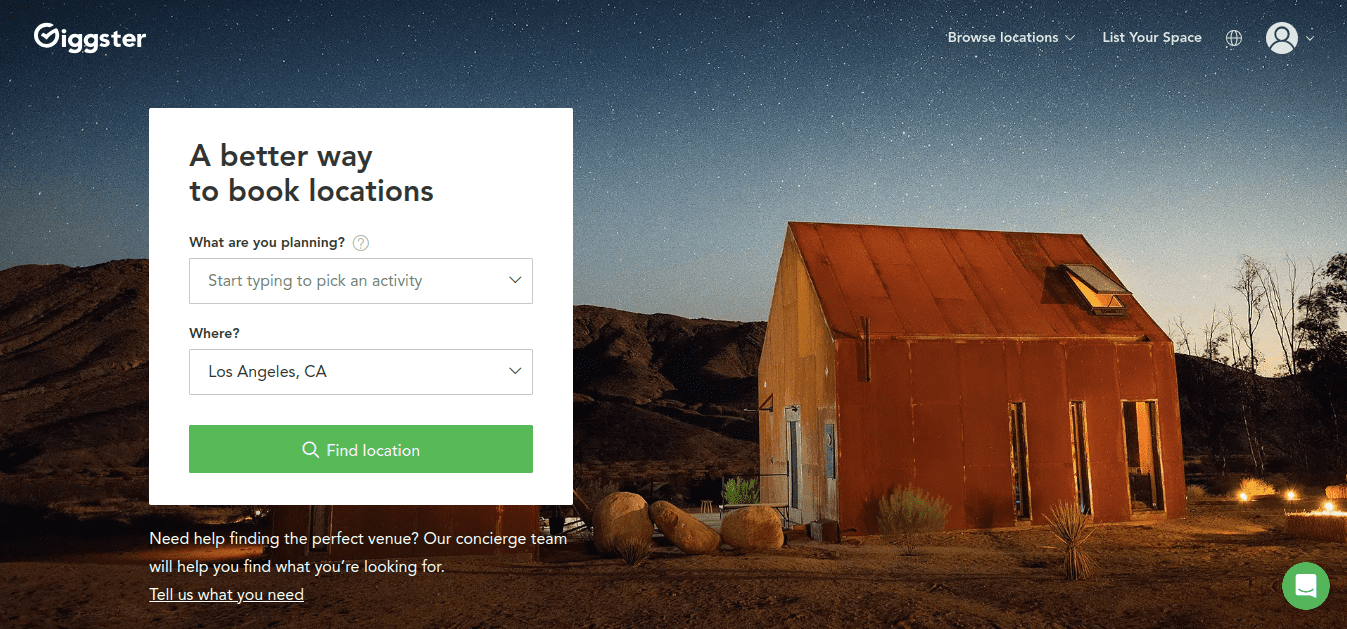 Giggster is a fantastic alternative to Peerspace, especially for creatives like photographers and filmmakers.
It stands out with its collection of creative and versatile spaces. This makes it an ideal choice for events that require an artistic touch.
Plus, Giggster offers a user-friendly interface, excellent customer support, and the flexibility to customize your event space, such as adding services like catering and equipment rental.
Target Audience: Independent filmmakers, photographers, and creative professionals.
Event Types: Film and photo shoots, video production, art exhibitions, and creative projects.
Annual revenue - $15M - $25M
Total visits - 677.2k
2. Eventective.com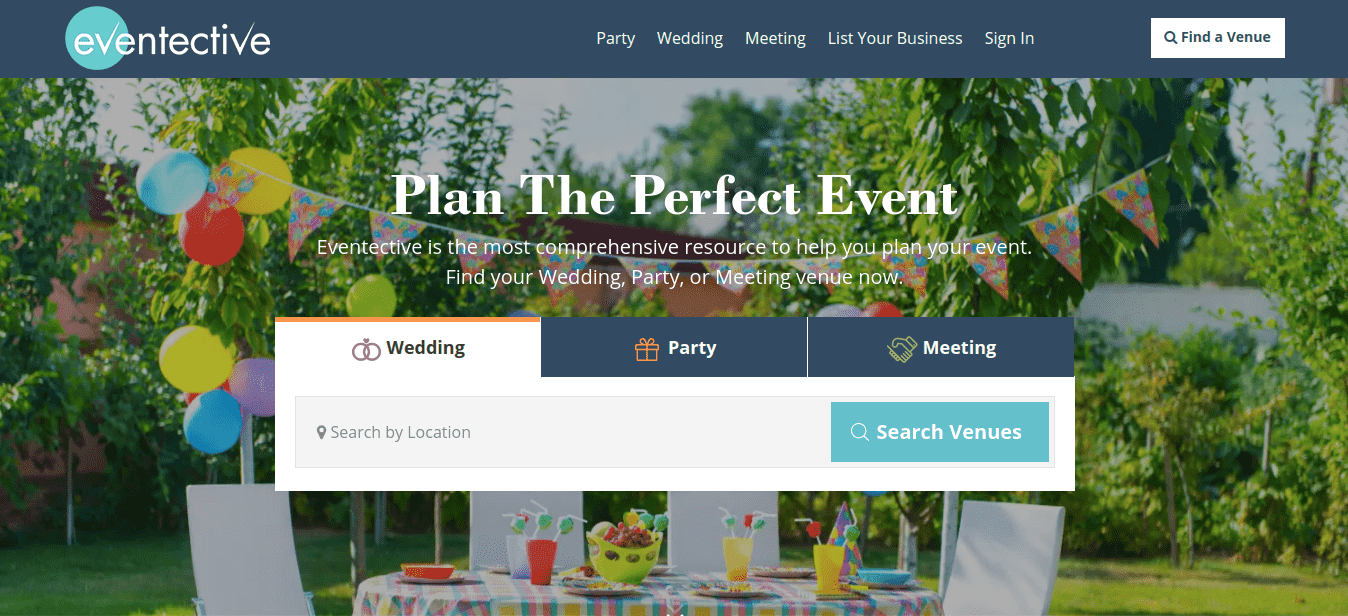 Eventective is a comprehensive platform that boasts an extensive list of event spaces. It is one of the best alternatives for event planners looking for a variety of options.
Using the given reviews, you get to know a lot about the space, then you make a better decision.
Eventective's geographical reach ensures you can find the perfect location for your event, regardless of where it is set to take place.
Target Audience: Event planners and individuals looking for a wide range of event venues and services.
Event Types: Weddings, corporate meetings, parties, conferences, and various social gatherings.
Annual revenue - $2M - $5M
Total visits - 1.3M
3. Splacer. co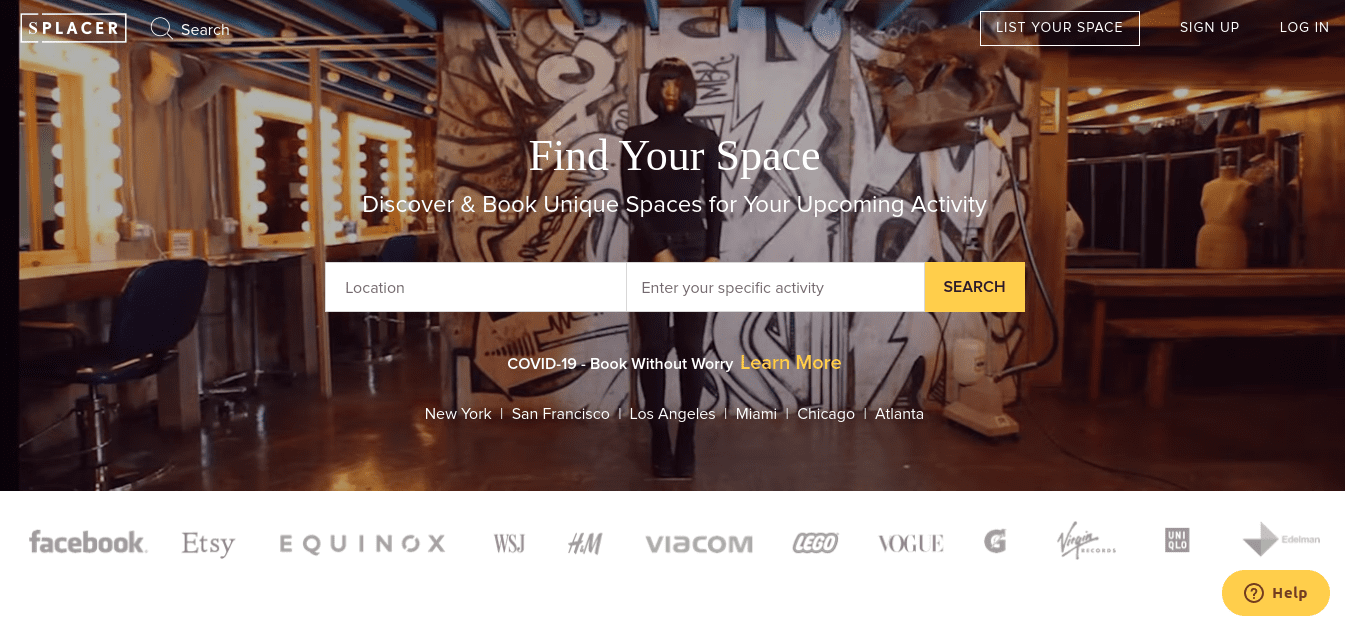 Splacer is known for its diverse selection of creative event spaces, and it's an excellent choice for those who seek unconventional venues.
From chic lofts to scenic outdoor locations, Splacer offers a unique range of options that is perfect for you to create a memorable event.
The platform's user-friendly interface and real user reviews contribute to its popularity.
Target Audience: Creatives, businesses, and individuals seeking unique and stylish event spaces.
Event Types: Pop-up shops, art exhibitions, fashion shows, product launches, and creative events.
Annual revenue - $10M - $15M
Total visits** - 59.3M
4. WeWork.com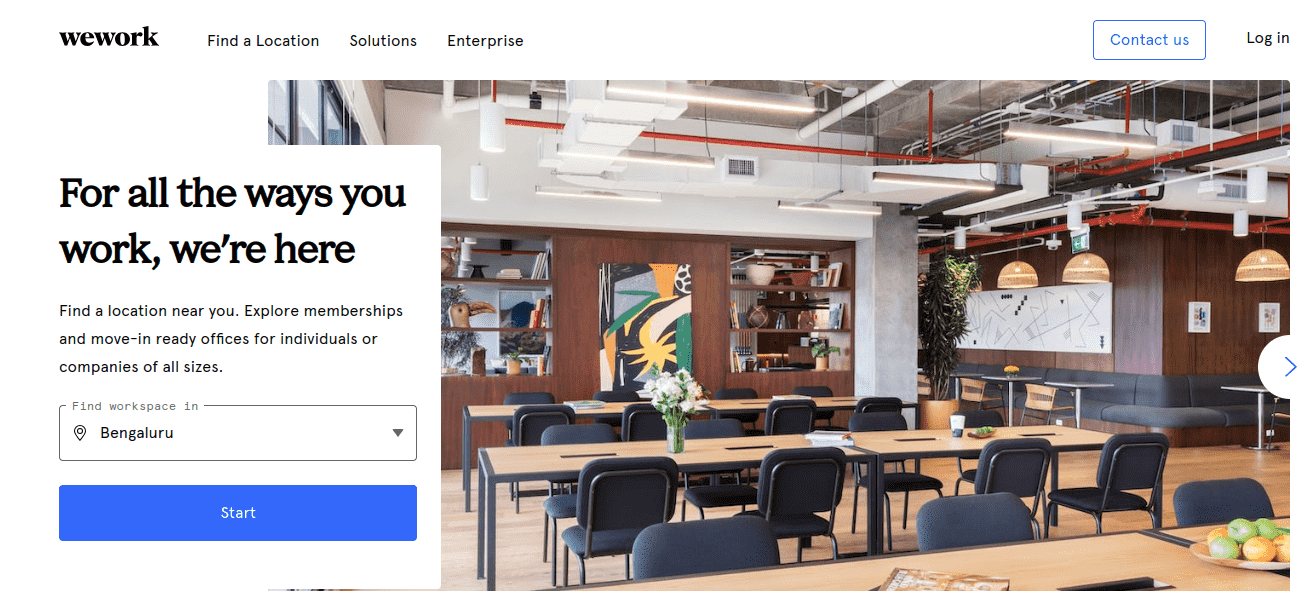 WeWork offers flexible office spaces, making it a top choice for businesses looking to host meetings and corporate events.
The advantage of WeWork is its extensive global network, allowing you to find a suitable workspace in many cities.
The platform offers modern and well-equipped facilities, making it a strong contender for corporate gatherings.
Target Audience: Startups, entrepreneurs, and businesses looking for flexible office space.
Event Types: Business meetings, workshops, networking events, and conferences.
Annual revenue - $1B
Total visits - 1.9M
5. Eventup.com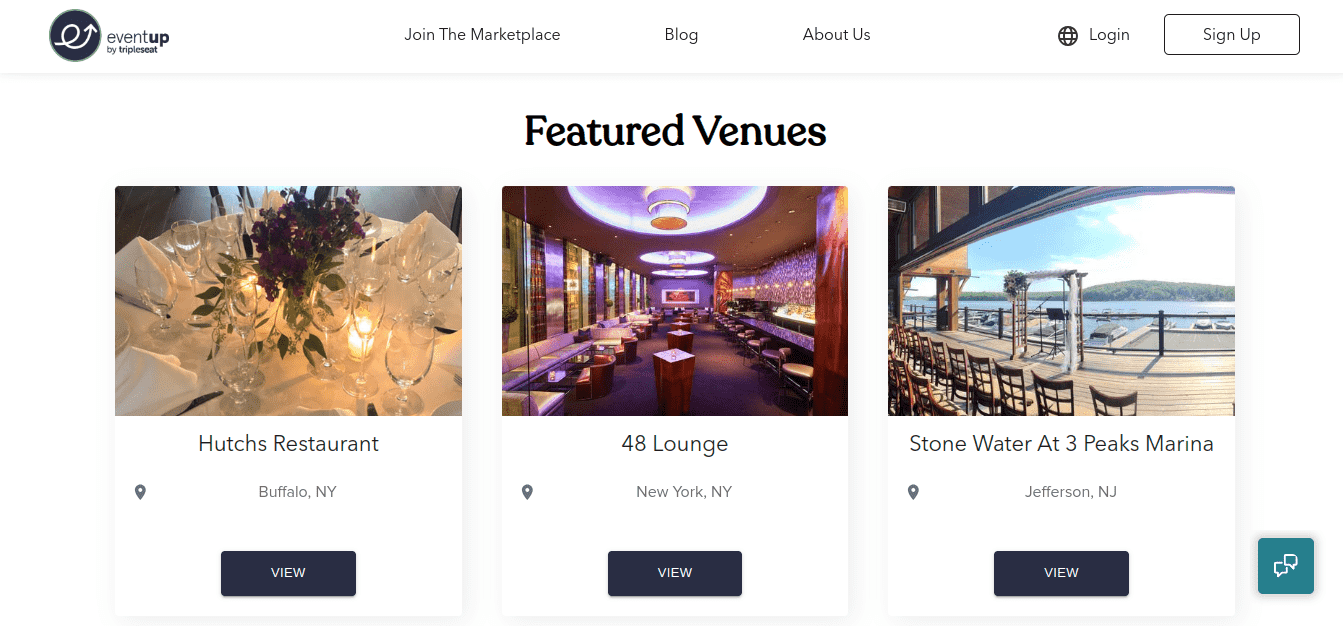 Eventup is another great option as a Peerspace alternative. They offer a diverse selection of venues suitable for both corporate and celebratory events.
Why do you need to have your eye on it?
They offer a user-friendly interface, customer support, and the option to customize your event space with additional services such as catering, decorations, and audio-visual equipment.
Target Audience: Event planners, individuals, and businesses looking for a variety of event venues.
Event Types: Weddings, corporate events, private parties, team-building activities, and conferences.
Annual revenue - $10-15M
Total visits - 76.2k
6. Partyslate.com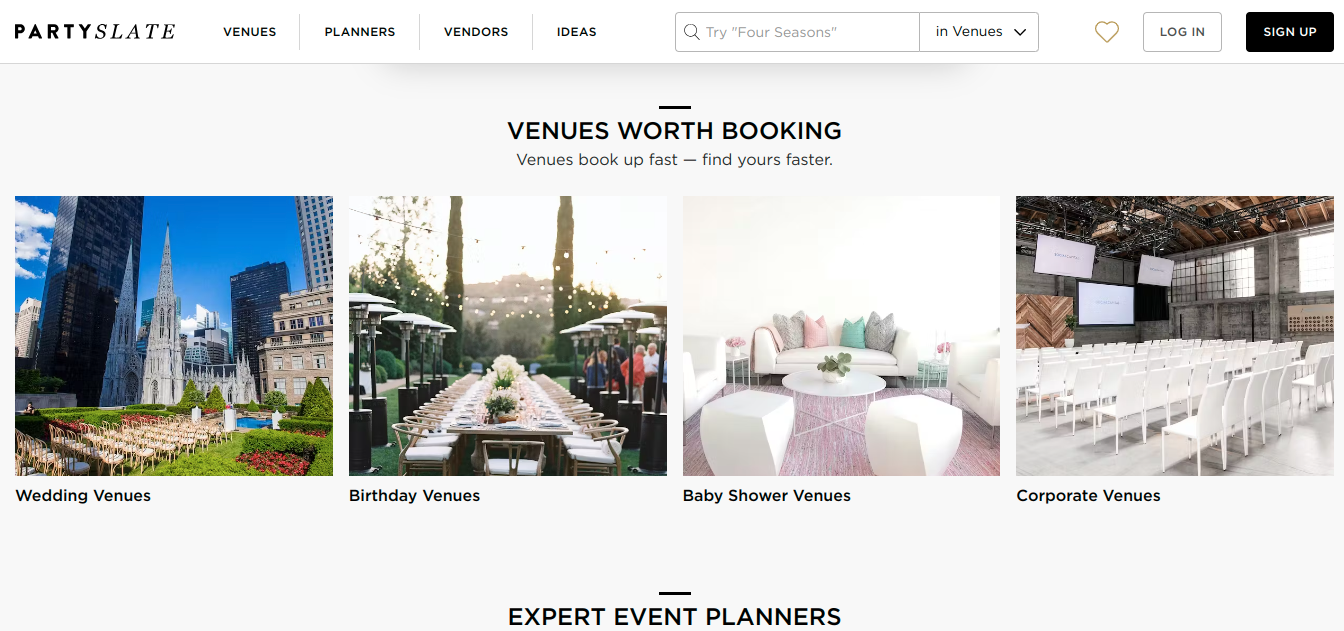 Party Slate focuses on providing stunning event spaces for celebrations. If you are planning a wedding or any other special occasion, it's a fantastic Peerspace alternative.
The platform stands out for its beautiful and inspiring event photos, helping you visualize your perfect celebration.
By using Party Slate, you can also connect with event professionals and vendors.
Target Audience: Brides, grooms, and couples planning weddings.
Event Types: Wedding ceremonies and receptions, engagement parties, and related celebrations.
Annual revenue - $2-5M
Total visits - 354.7k
7. Herecomestheguide.com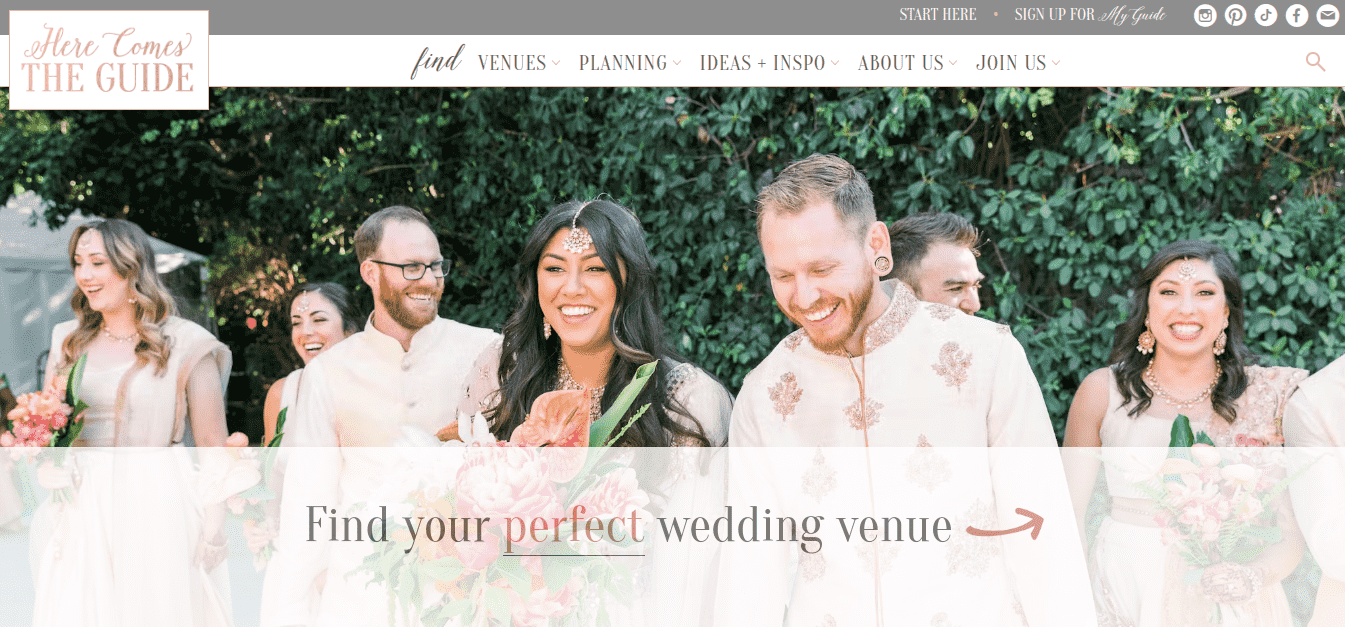 Herecomestheguide is an ideal choice for couples planning weddings.
This platform offers an extensive list of wedding venues, as well as useful resources and ideas to make your special day unforgettable.
You would find this an excellent option if you are looking for wedding venues and services.
Annual revenue - $10-15M
Total visits - 680.6k
These Peerspace alternatives hold unique strength, whether it comes to addressing every need, providing various venue options, offering competitive pricing, or creating a better user experience.
But you should choose your preferred one depending on what you want, like - your event's nature, location, and budget.
---