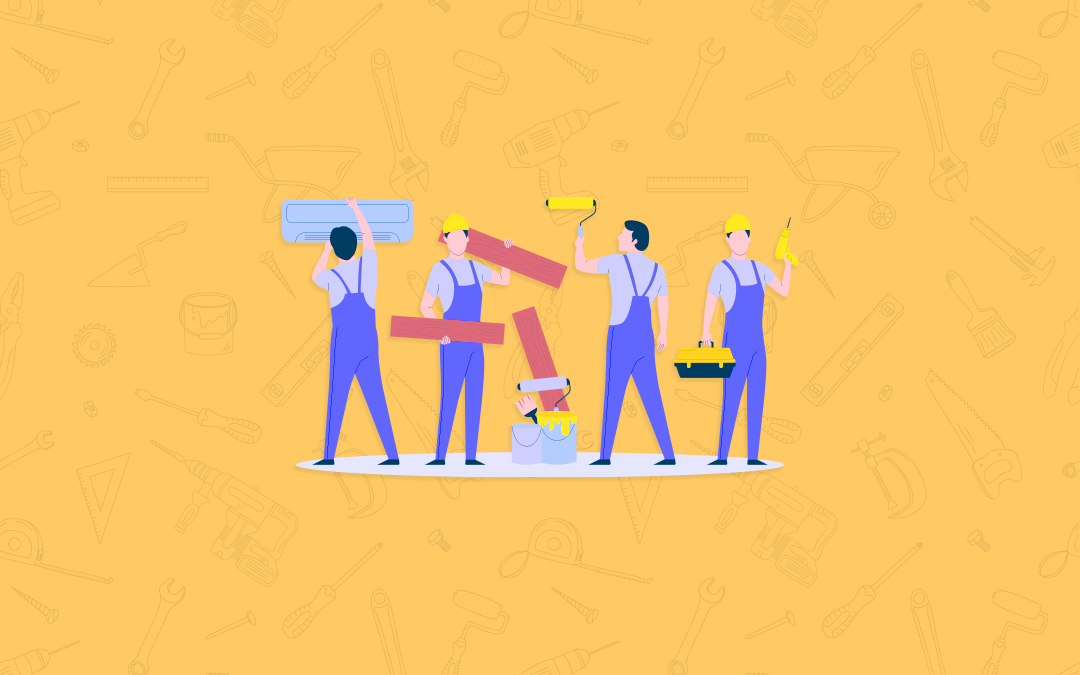 Top 8 Handyman app you should know in 2023
Check out the top 8 Handyman services that you need to be aware of in 2023.
Handyman service apps are so convenient for customers to book the service through mobile phones. Although, it helps to connect Handyman with customers, enabling them to make income at the preferred times.
Let's start with some statistics.
⭐ Handyman job is estimated to rise 8% between 2020 to 2030.
⭐ In 2022, the market was valued at $339 million and will expect to rise to $1.65 billion in 2030.
What's the motive of this blog?
Well, the motive of this blog is to discuss the top 8 Handyman apps in 2023. You could be a Handyman, a service seeker, or a Handyman business enthusiast.
For Handyman, you can take this suggestion by listing your profiles. And for a customer, you can choose the best from the list to book a service.
It will give you a clear overview to make the right decision.
Get started!
Jobber
It is founded in 2011 by Sam Pillar, from requesting a service to the payment process, Jobber makes the entire process straightforward for users.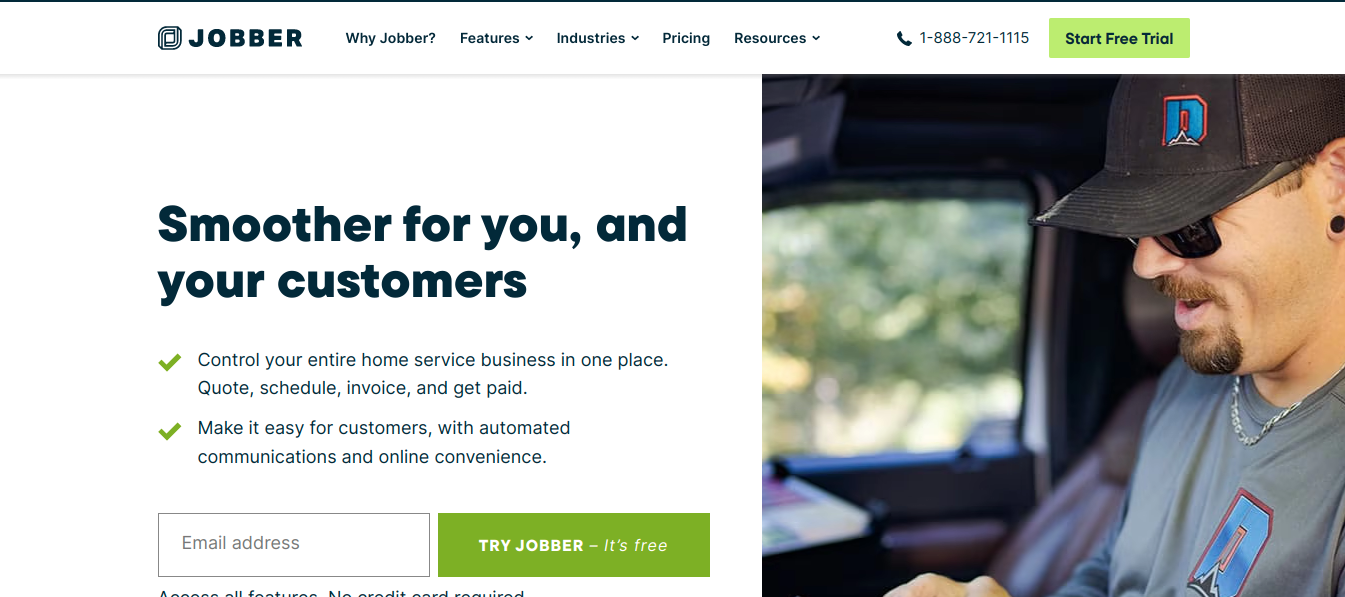 Moreover, the platform is seamless for Handyman with features like Scheduling, optimizing routes, send quotes and invoices through SMS. The Handyman gets the spot payments after the service fulfillment.
Whether you're running a Handyman business or looking for Handyman, Jobber is the right place for you.
Jobber is available both on Android and iOS.
Handy
It is an online marketplace where users can avail of cleaning, installation, and other home services.
Started in 2012 as a Handybook by Oisin Hanrahan, Umang Dua, Weina Scott and Ignacio Leonhardt.
Now Handy operates in the United States, Canada, and the United Kingdom. Among many services: cleaning, plumbing, electrical, painting, and furniture assembling is the most famous service.
Handy is available both on Android and iOS.
TaskRabbit
TaskRabbit matches the freelancer profession with the customer who seeks Handyman service. Founded in 2008 by Leah Busque, the platform has more than ten thousand taskers with various categories.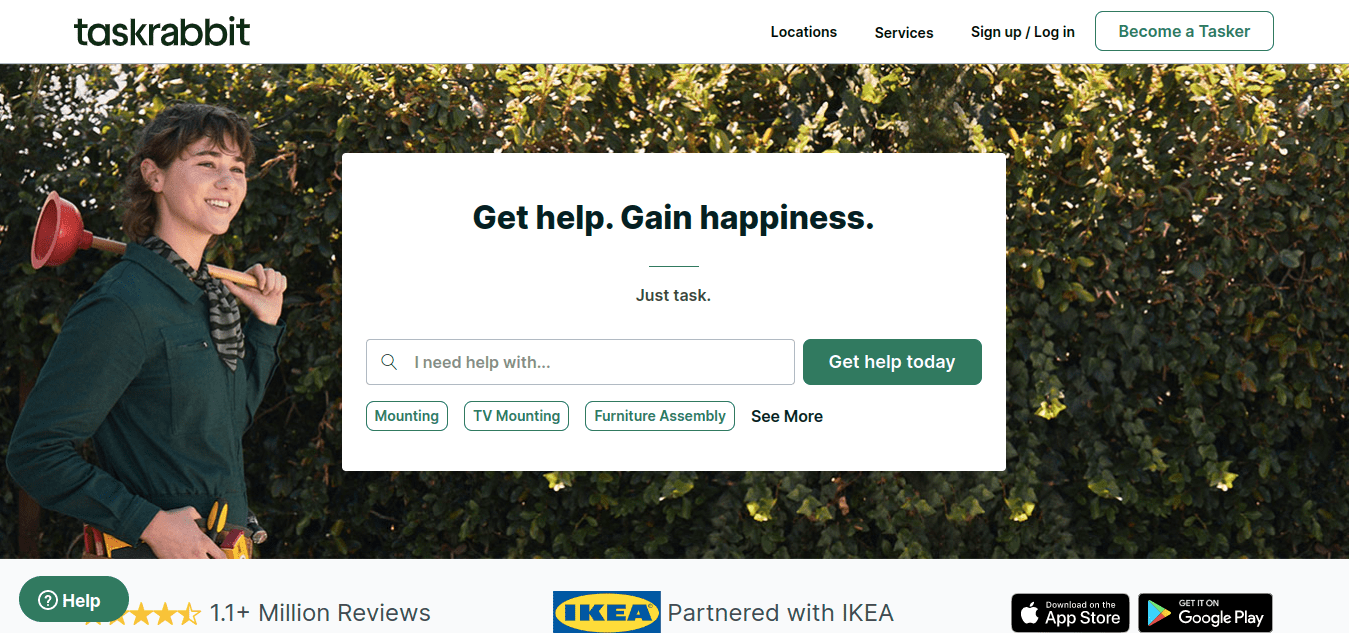 Some of the services:
Yard Work & Gardening
Furniture Assembly
Heavy Electrical
IKEA Furniture Assembly
Laundry service
These are all some of the glimpses. You can find more from the TaskRabbit web app.
Available on Android and iOS apps.
Thumbtack
It is an American-based home service platform founded in 2008 by Marco Zappacosta, Sander Daniels, Jeremy Tunnell, and Jonathan Swanson.
More than 1000+ services were available on the platform. To state some of them, they offer Gate Installation, Concrete Installation, and Bathroom Installation.
They provide online resources where you'll find cost estimations on popular services, how-to-guide, and answer to some commonly asked questions.
Once you created your account in Thumbtack, they asked for the ZIP code and the service. After some time, the Handyman would arrive at your location.
Available on both Android and iOS.
Porch
Started in 2023, Porch connects homeowners with home improvement professionals. They partnered with more than 11,000+ small and large businesses since then.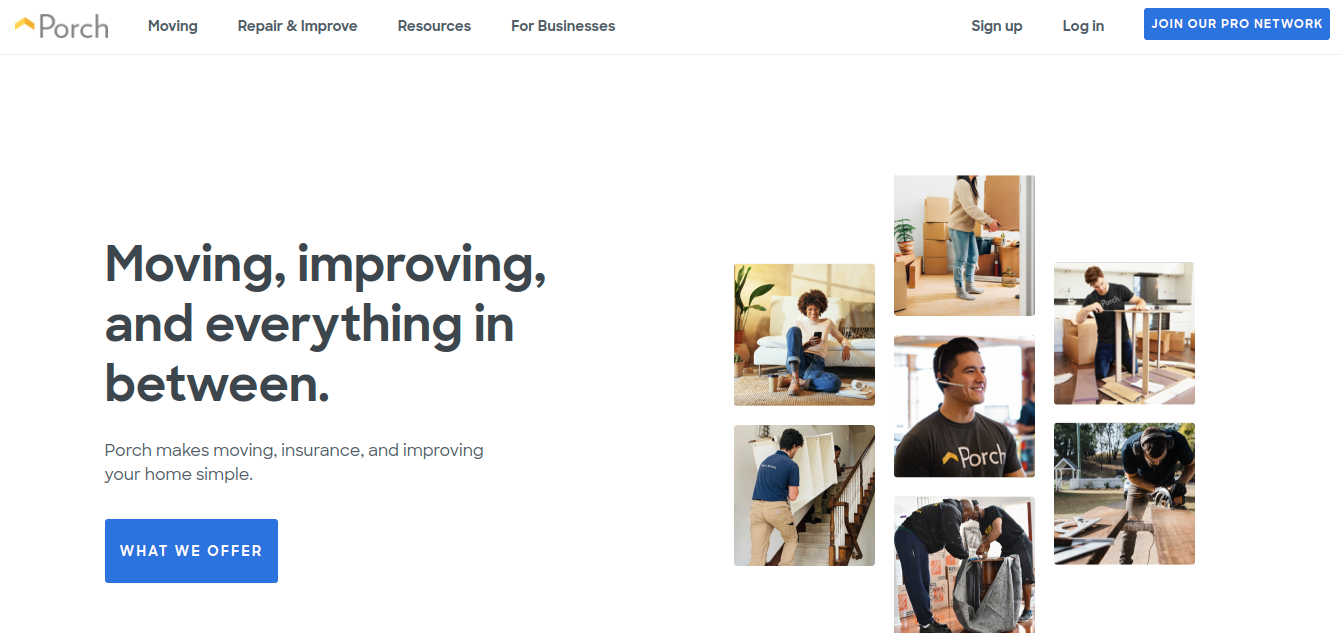 The Porch has made many services available on the platform and offers a free quote from the Handyman service.
Booking a local home improvement service is straightforward for the users. Moreover, the user can schedule and avail of minor repairs and maintenance.
Ace Handyman
Ace Handyman started as a hardware retailer in 1924. Today, they have completely transformed into a Handyman service app along with the retail service.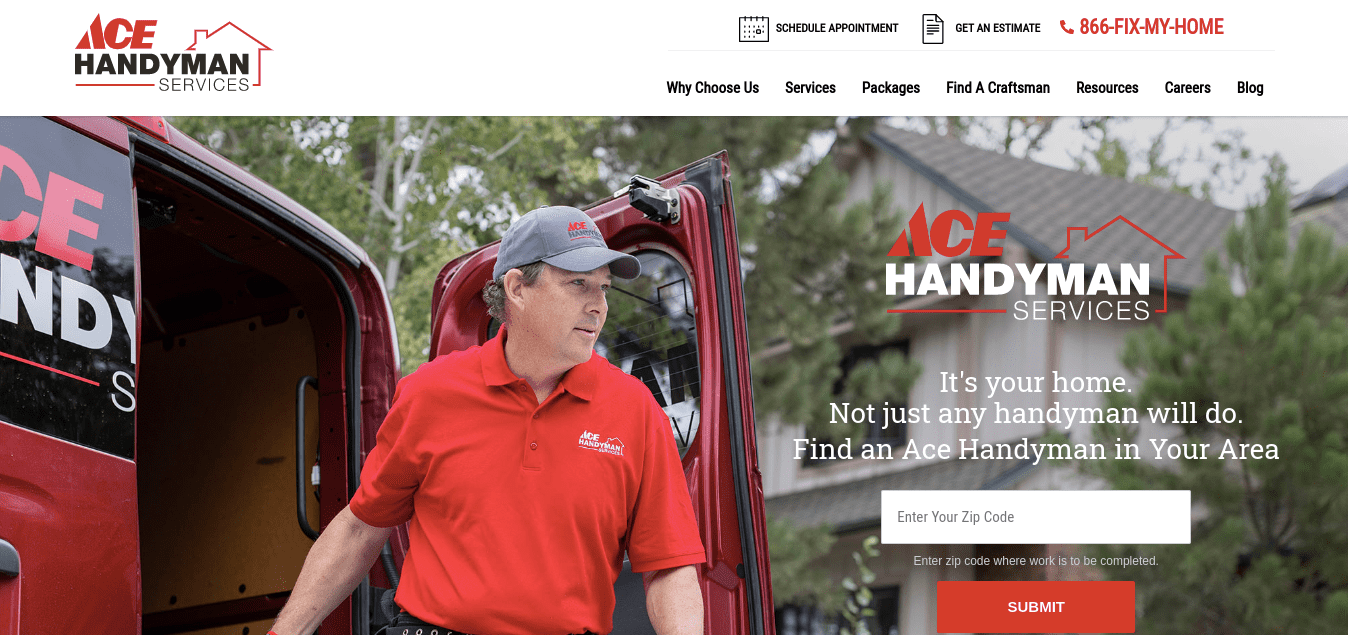 They proudly claim: "If you like our hardware store, you'll love us in your home" in their tagline.
The platform ensures the skilled, licensed, and insured Handyman to the home. The user can schedule the service within two or three days.
In addition, they allow customers to shop from the local Ace hardware store, by doing so, the platform brings down the entire process smoother for users.
Popular service
Doors
Floors
Bathrooms
Painting
Fencing
Drywall
Carpentry
Handyman connection
Founded in 1991, the online platform has 60+ franchises across the United States and Canada. They had earned a huge number of raving fans. Customers often repeat booking the service with different service categories available on the platform.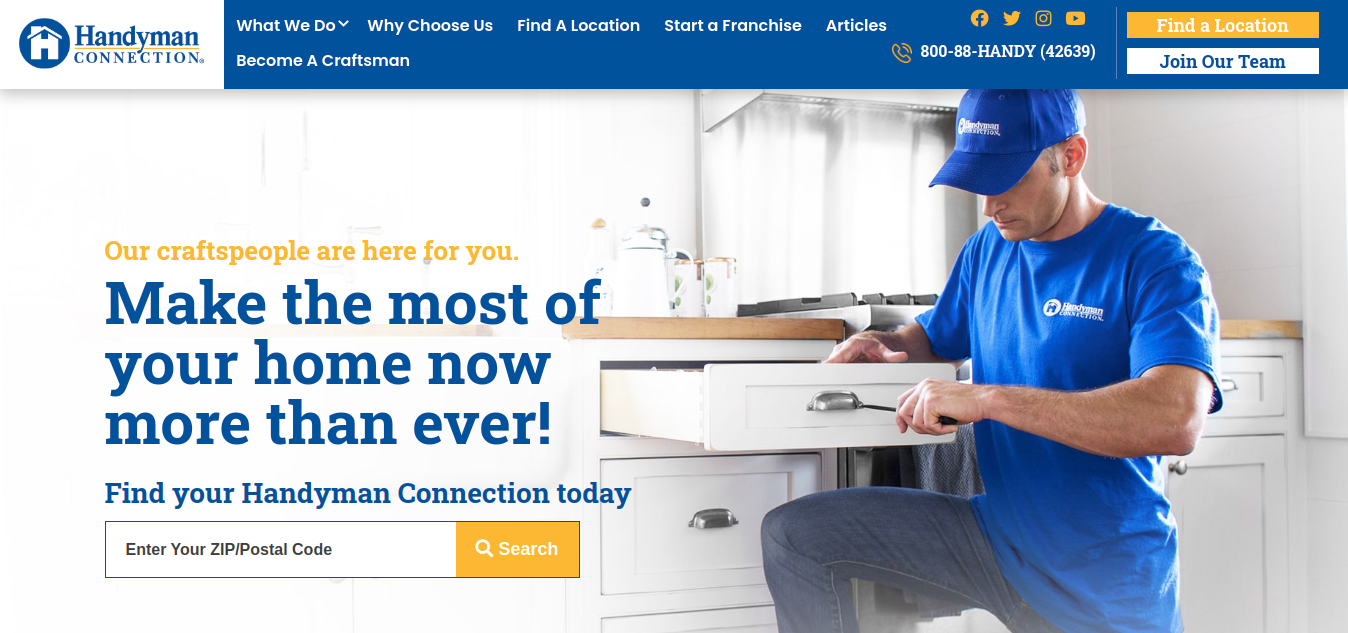 The platforms provide free cost estimation service, and they are open to collaborating with wannabe entrepreneurs to let them start a Franchise of "Handyman connection".
Once booked the service, the user gets assistance from Handyman throughout the journey, like the project update and other queries that the user might have.
Popular service
⭐ Carpentry
⭐ Electrical
⭐ Flooring
⭐ Fences
⭐ Plumbing
⭐ Paintings
Available on the web .
Final words
Well, we have come to the end note. I hope this blog overall satisfies what you expect. These top Handyman will help you, whether you're Handyman or a customer.
As we move into 2023, numerous apps can assist both users, so it's essential to go there which suit your need.
Little suggestion for service seekers; read some reviews related to the previous service they delivered. It shows their work ethics and commitment to the service.
If you're a Handymen or business owner, it is crucial to oversee if the platform automates the entire process and is convenient for you.
If the top app doesn't satisfy you to start a Handyman journey or business, this readymade Handyman app helps you to run your Handyman service platform.
Moreover, the app is cost-effective and customizable to your requirement. If you have any doubts regarding development, chat with this Whatsapp link.
Well, thank you for your consistent reading.
---
Have doubts regarding development?
---